,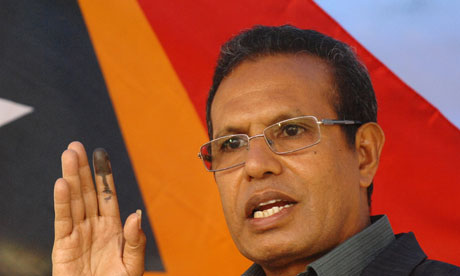 Jornal Timor Post - Wednesday, 23 January 2013 - Translation from Tetum Original
The President of the Republic Taur Matan Ruak has criticized the quality of domestic public works projects that the government contracted private companies to undertake because they are of poor quality and because of this it is development that is akin to just throwing money out onto the rubbish heap.
This is according to a written communiqué that Timor Post was given on Tuesday 22 January last by the President of the Republic relating to the Head of State's visit to the sub district of Bazartete in the District of Liquica on Monday last to meet with the community and hear the concerns and difficulties they face.
During that meeting the community complained to the President that they lack in adequate road infrastructure, rising rice prices and lack of access to potable water.
"As the President of the Republic, I worry about the poor quality of public works in Timor-Leste, it's like throwing money onto the rubbish heap," the President said. So the Head of State also asked the government to pay attention to the problems with development in the country so that benefit flows to the population.
"When we do not know how to do something properly, it is better not to go ahead so that it does result in shame for us," the Head of State said.
During the visit the President appealed to everyone to work hard to contribute to the development of all Timorese people.
President Taur Matan Ruak also asked the government to give more attention to decentralization of the economy, to avoid the growing migration of people to the capital, Dili, and criticized the programs of the executive branch that "stimulated laziness."