.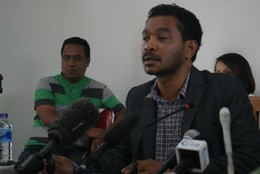 Fidelis Magalhães
Dr. Fidelis Magalhães - Personal opinion* - October 8, 2013
I applaud Mahein's attempt to explain the crimes that happened recently. However, I think that Mahein needs to be cautious in drawing conclusions due to the following reasons.
By hastily claiming that the crime was conducted by a group of organized criminals may mislead the public. All the attention will then be on the organization and their structure. We may assume that the crime was conducted with a specific motive inline with the goal of the "masterminds" or "executive leaders".
.
The fact is one shall not ignore existing social problems as possible drivers. Moreover, the claim may insinuate that the crimes could not be conducted if not by a specially organized group with its own funding and ideology. This rules out the fact that crimes are common and can be conducted by anyone.
.
Even the so called KIBATA (KIPAS DULU BARU TANYA- Whack First, Ask later) may well be just a group of [disenchanted] youth who hang out together where not all the members have been co-opted into an organized criminal group.
.
I would take an extra caution in drawing a conclusion. There are many thousands of Bairro based youth groups in the country, and many are very positive.
.
My own group was called Tuba Corente (firm chain) when I was growing up. We were simply searching for an identity, I process which admittedly could be aggressive and even violent.
.
The point is I wish to know better about their motives, if there was really a criminal organization with a structure of that sort. Were the motives economic, political or ideological?
The perpetrators might have been just psychopaths (they happen to exist all around the world). With the development process (which often alienates people) mixing with our own history of trauma , I am not surprised that some would commit such crimes.
.
The way the public reacted made me think that we ourselves may have to take a share of responsibility. I am not impressed with the photos I saw in the newspapers. One of the perpetrators was displayed with a battered face and there was no single person to question it.
.
Many Facebookers even called for death penalty and torture. Despite the level of their atrocity, I still think they have to be considered innocent until proven otherwise by the court. This is a basic principal.
.
Besides they were already caught red handed so why would anyone have to beat the hell out of them? To extract information when the "truth" was lying naked before the investigators' eyes? See by the way we reacted and by the way we tolerate violence that made it not surprising to think that the children of this land (today's children) are capable of committing such hideous crimes. We as a society shall question ourselves before pointing fingers.
* F

idelis Magalhães, and this is his personal opinion.