.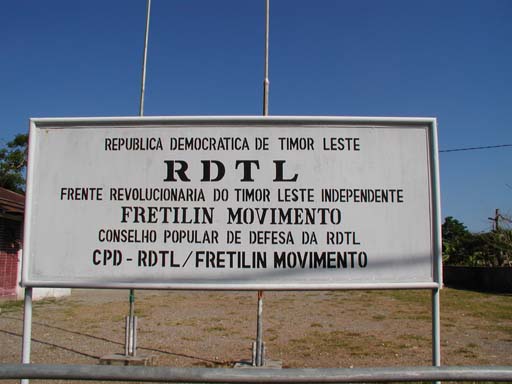 CPD-RDTL LA ASEITA LEGALIDADI RESOULUSAUN HUSI PARLAMENTU
REPUBLICA DEMOKRÁTICA DE TIMOR-LESTE RDTL
FRENTE REVOLUCIONÁRIA DO TIMOR-LESTE IDEPENDENTE
FRETILIN- MOVIMENTO CONSELHO POPULAR DEMOKRÁTICO DA RDTL
CPD-RDTL
TO : The Organization of Human Rights in Holland;
: The National and International Communities in the World
Subject : The Political Position of CPD-RDTL against the Resolution Project no 14 that deputies of national parliament approved in plenary, on Monday, 3 of March 2014, authorized National Police of Timor-Leste – NPTL to take action against the central head office of CPD-RDTL and the other popular centers in Timor-Leste!
From this document, Maubere people, Maubere youth, the Fighters and the Veterans who under the protection of CPD-RDTL / FRETILIN- MOVIMENTO, took political position against the project resolution no.14/III/2014 at 3March 2014, authorized NPTL/PNTL take action against the central head office of CPD-RDTL in Balide-Dili the other popular centers as follows:
1. About the project resolution no.14 that was approved by the national parliament as sovereign organ with function to elaborate and produce laws, to guarantee, to protect, to orient, to educate their citizen but, the project resolution no.14 has no juridical base to condemn CPD-RDTL because:

a) – In plenary, 3 of March 2014 the members of national parliament did dirty political manoeuvre with fabricated argument and false against also CPD-RDTL that has no relation with KRM that was led by commander Mauk Moruk! The arguments that was presented by the parliamentary in this resolution was the position of KRM, that is why be responsible by the leader of KRM, may not slander CPD-RDTL!

b) - The existence of CPD-RDTL in Timor-Leste since 1998/1999 till now, supported the government and the RDTL's state to strengthen RDTL's sovereignty and to consolidate the components of RDTL with political restoration base on the just principle and correct method, and CPD-RDTL, never thought or has intention to do subversion or to create instability in the country of RDTL!

c) - CPD-RDTL condemned hardly brutal action of PNTL against the members of CPD-RDTL, were treated as war internee, destroyed central head office of CPD-RDTL in Balide-Dili, took by force the things of comrade Aitahan Matak, the things of the organization of CPD-RDTL and some of the members of CPD-RDTL who resided in central head office of CPD-RDTL and the worst they (police) pull down the national flag of RDTL at 11.35 and then destroyed flagpole, plate or badge of RDTL also all popular centers in Timor-Leste!

2. About the photography of two (2) leaders of CPD-RDTL that were connected with press conference of KRM by some of the deputies on February 15, 2014! This as dirty political manoeuvre and great defamation to the (2) leaders have no relation and did not participate in this press conference!

3. About Illegal collecting!
Principally, CPD-RDTL against hardly to those who made illegal collecting because the action refers as exploration to the little people and according to the known of CPD-RDTL, it was done by the mixture for chewing betel organization and it was not done by CPD-RDTL! The deputies as parliamentary was asked to show the fact and the evidence, may not accuse only.

4. The condemnation of brother Xanana to CPD-RDTL about:

a) - RDTL'S constitution 1975 that was defended by CPD-RDTL not to change or replace constitution 2002 of RDTL but to straighten out or align the historical war with just principle that, constitutional readjustment that was conveyed by CPD-RDTL in first national Dialogue between CPD-RDTL –first constitutional government – UNMISET on January,25 2003 and at that moment, brother Xanana himself agreed to make revision to place in RDTL's constitution 2002 as preamble!

b) - About the flag that is being brought by CPD-RDTL together the national flag and the flag of FRENTE was from the Emblem of FALINTIL since 1975, and stick always on the beret or the hat of FALINTIL in their resistance against Indonesia occupation and nowadays CPD-RDTL officially this FALINTIL EMBLEM as standard or banner flag of OPTT because ninety percent of FALINTIL came from countryman or rural!

c) - About the General Headquarter, CPD-RDTL notifies brother Xanana that , in CPD-RDTL does not exist General Headquarter but there was central head office with its popular centers in all territory to organize sufferer of Maubere people with their generation, to step forward or stride for people Liberation! That is why may not accuse each other of any kind!!!

d) - Forces who concentrated in Laga, formerly some of them in CPD-RDTL but after 20 of August 2013 when commemorate FALINTIL Day Anniversary, with three flagpoles together commander Mauk Moruk in Baucau municipal stadium, they went back to sacred family and commander L7, because started from 20 of August 2013 CPD-RDTL had no control about them!

Furthermore, based on the really facts that shown in this document all of us ask to brother Xanana and the deputies who invented false argument to make the CPD-RDTL the scapegoat to put out their accusation because there is no KRM in CPD-RDTL! Ask also to the deputies to stop soon the brutal action of polices to CPD-RDTL, that was also guaranteed by actual constitution as Resistance organization because the polices who praised by the deputies with word professional, after the first destruction in 2005, and repeat for the second time to the central head office of CPD-RDTL in 2014, as sacred place for the process of restoration; Historical place and also legal, because had recognized by state when the chief of anterior state, Brother José Ramos Horta gave the " de facto recognition'' on January, 4,2012 He said that, CPD-RDTL as REVOLUTIONARY INSTITUTION and PATRIOTIC must stand always beside state to support and to help! And the worst, polices that named professional rose down National Flag at 11.35 the day with unjust form, did brutal destruction to the flagpole, the plate of RDTL, and t he door, also took by force other things that were not their property and there is no relation to crime, that is why the polices have to redelivery those things to the owners!!

The last, ask also to president of Republic to take his concrete position to stop the new dramatic situation and ask to the leader of KRM about their statement that was conveyed in press conference on February,15,2014, in Fatuhada, and is better to promote dialogue to solve the dragged problem between brother Xanana and Mauk Moruk!

Timor-Leste, 5 of March 2014

Executive Committee for Resistance-ECR
.