.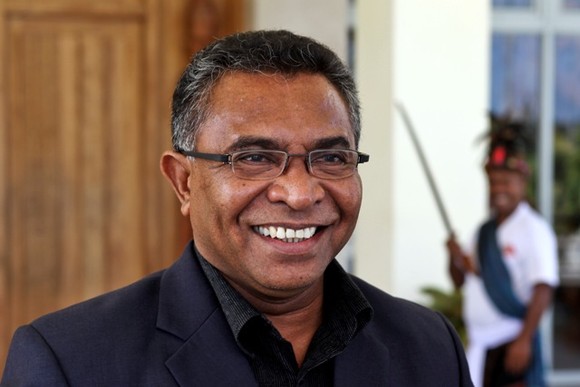 IT PAYS to be part of Timor Leste's political elite; and it pays even more if you are close to new Prime Minister Rui Araujo and former PM Xanana Gusmao, particularly if you are facing corruption allegations.
In fact, it pays to the tune of $US30,000 a month. Not bad when you consider a Timorese family struggles to earn and live on a mere $US80 a month.
But former Finance Minister Emilia Pires, the hand picked favourite lady of Xanana Gusmao, has just hit the jackpot again having been rewarded for her services to Timor Leste by Prime Minister Araujo to the tune $US30,000 a month for her "international advisory services".
The monthly service fees are seen by many Timor Leste insiders as a way of keeping Pires quiet.
Pires' controversial payday follows the killing of former commander and outspoken anti-corruption campaigner Mauk Moruk, who was shot to death alongside a number of his followers last month.
Moruk long campaigned against the corruption of the former Gusmao government. Moruk's campaigning against Gusmao's government peaked earlier this year when Gusmao publicly said he wanted to kill Moruk and was willing to do it himself. Moruk's family is yet to receive the autopsy report form the Timor Leste government. It is believed, despite being unarmed, he was shot in excess of 30 times by security forces.
Whilst former PM Gusmao got his way with Moruk's fatal end; he also seems to have had his way with Pires' court appearance. Pires, who was forced to step down from the troubled Gusmao government, after being charged by prosecutors has never faced the courts.
Not long after Pires was charged with corruption, Gusmao caused an international legal stir by demanding the National Parliament sack foreign investigators and judges. Once again Gusmao got his way.
The move by Timor Leste's Parliament was seen by foreign governments, international investigators and judiciary as a way to stop the prosecution of the alleged corrupt Ministers in the Gusmao government; as well as shutting down corruption investigations under way into Gusmao's role as Prime Minister and the awarding of contracts to family members and friends. Gusmao awarded family members with hundreds of millions of dollars in contracts with his nephew Nilton Gusmao controlling the majority of oil contracts in Timor Leste.
Many believe the protection of Pires, and lucrative advisory role awarded to her by the current PM is to protect former PM Gusmao and ensure she does not spill the beans on the depth of ongoing corruption in Timor Leste.
International legal experts and many governments are stunned at the news that Pires despite being charged with alleged fraud has been brought back into the circle of Timor Leste's "political elite" with a huge contract.
"It's a bewildering development and one that shocks many legal experts in Australia, the U.S and Portugal," one prominent Sydney human rights & international relations lawyer said today. "Here we have a former Minister charged with corruption; forced to stand down and who is now being paid a mammoth monthly salary that would feed hundreds of families in Timor Leste," she said.
"There is little doubt neighbouring governments who have spent billions of dollars on the restructure of Timor Leste over the past decade would have very good information on the extended corruption that has gone on in Timor Leste since 2007 which includes not only corruption but also political murders, drug running and under-age sex all of which is controlled by Timor Leste's so-called political elite.
"The Australian, U.S and Portuguese governments have the evidence, but in many ways are powerless to act, hoping that eventually honest politicians will rule Timor Leste before it becomes a a 'failed state'," she adds.
"Unfortunately, there is every likelihood that Timor Leste will be destroyed by corruption and mismanagement as corrupt politicians and advisors rip the heart and all the money out of Timor and transfer their ill-gotten gains offshore."
The Sydney based international lawyer believes Timor Leste has become a despotic society run by a "Mafia-styled Don".
"It's a disgrace that this small country that has been through so much is now being raped and pillaged by the people, who are supposed to be protecting its citizens and less fortunate," she said.
"It's a free-for-all!" she adds.
"Everyone is getting as many dollars as they can. In the meantime, the suffering of the people continues through poverty, unemployment and poor health services. Timor Leste is a disaster waiting to happen right on Australia's doorstep.
"For what it's worth I call on the Foreign Minister of Australia Julie Bishop to act! Surely, with the amount of Australian foreign aid given to Timor Leste they can act. Surely..."
Many Timor Leste insiders are calling Mauk Moruk's death a "state sanctioned" killing at the behest of the political elite. The United Nations, Human Rights Watch and Amnesty International have been called on to investigate Moruk and his followers death.
Meanwhile, Timor Leste's bid to become a member of ASEAN has taken a major hit over the past 12 months following the sacking of the foreign judiciary; the mismanagement of its economy; continued corruption allegedly from within the government and the contented attempts to silence the media. Others say Timor Leste would fit perfectly within the ASEAN environment due to the number of corrupt governments already being members.
Attempts were made to gain comment from the office of Timor Leste's Prime Minister on the latest Pires scandal. No comment was forthcoming.
*Editor's Note: The name of the lawyer has been protected as she continues to advise NGOs in a number of countries surrounding Australia.